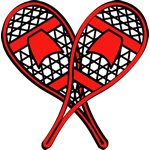 Mercer Springs Snowshoe Tour
Virtual Event - Dec. 17, 2022 to Feb. 19, 2023
The Mercer Springs Snowshoe Tour is a non-competitive event that highlights the beauty of the MECCA snowshoe trails. The Klondike Loop begins behind the chalet, winding through forests and wetlands for 1 mile showcasing MECCA Trails. The Mercer Springs Loop leaves the chalet, climbs through an upland forest of hardwoods and pines, before crossing Mercer Springs and a vast wetland to connect with the Klondike Loop. Participants can snowshoe the Klondike Loop (1 mile), the Mercer Springs Loop (2 miles), or both (3+ miles).
All participants will receive a nordic ski hat commemorating the event.
Fee:
Virtual Event from December 17, 2022 - February 19, 2023:
Register by December 15th - $40
Register by January 15th - $45
Register by January 28th - $50
Special Student Pricing (Up to 19) - $10
Candlelight Ski Shoe Hike - January 28, 2023:
Participants are invited to attend MECCA's annual Candlelight Ski Show Hike celebration at dusk on January 28, 2023. Skiers, snowshoers, and hikers are welcome to enjoy a one mile trail that has been candlelit with over two hundred luminaria. Gather around the bonfire for hot chocolate and cookies after your candlelit adventure. No registration necessary, family friendly, and dog friendly.
Little Turtle Flowage Trailhead & Cabin Trailhead